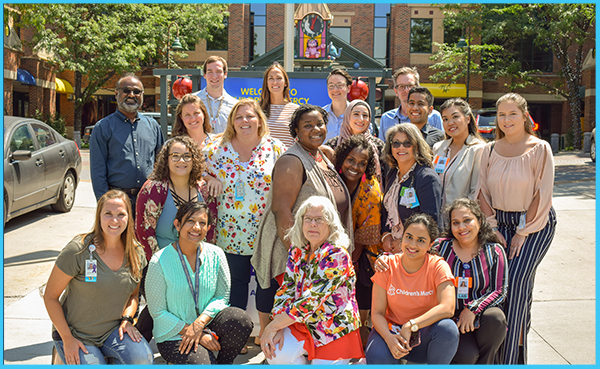 Children's Mercy Kansas City (CM-KC) has been a member of the CDC-sponsored multicenter New Vaccine Surveillance Network (KC-NVSN) since 2009 with Rangaraj Selvarangan (Director of the CM-KC Clinical Microbiology Laboratory) and Christopher J Harrison (a pediatric infectious diseases physician) as principal investigators. Many others at CM-KC contribute both directly and indirectly to the success of the Kansas City portion of this longstanding and internationally recognized NVSN program.
NSVN's current goals are to conduct population-based, laboratory-confirmed, active surveillance of acute viral gastroenteritis (AGE) and of acute viral respiratory infections (ARI) in children seeking care at seven medical centers across the US. At our CM-KC site, AGE surveillance includes six counties surrounding the Kansas City metropolitan area while ARI surveillance focuses on Jackson County, MO.
Subjects enrolled in NVSN surveillance come from CM-KC's inpatients plus those attending the Primary Care Clinic (PCC) or the Emergency Department. Recently two Jackson County private practices have agreed to be sources for NVSN surveillance.
Specific viruses under surveillance include those for which vaccines exist or under development, including rotavirus, norovirus, influenza, and respiratory syncytial virus (RSV). This allows ongoing measures of vaccine effectiveness for existing vaccines (rotavirus and influenza), and definition of disease burdens as a baseline for when new vaccines will soon be released (norovirus or RSV).
Another NVSN responsibility is to be a ready-to-go infrastructure that can pivot quickly to address new or emerging viral-related outbreaks or disease. This nimbleness to address national public health needs related to both new issues due to established viruses or to appearance of new viruses is a critical responsibility for NVSN and KC investigators.
Readiness to investigate new public health needs had led to new responsibilities that include surveillance and identification of clinical presentations and prevalence of EV-D68 and its association with pediatric paralytic disease, and, in 2020, SARS-CoV-2 including multisystem inflammatory disease due to SARS-CoV-2 in children (MIS-C).
These investigations include collection of demographic information, exposure history and vaccine record data, along with stool, respiratory samples and sometimes blood samples from over 1,000 ill children annually at our KC site. To understand disease-specific signs and symptoms, several hundred age-matched healthy children are enrolled as a control population.
Stools and respiratory samples are tested for viral and bacterial pathogens by multiplex respiratory PCR.  Blood can be tested for antibodies or infection related biomarkers. Our data on specific influenza subtypes are critical in the annual pediatric influenza vaccine effectiveness reports released by CDC.
NVSN also uses stored sample remnants (after the predetermined pathogen testing has been completed) to address important evolving scientific questions related to the natural history of pediatric infectious diseases, transmission dynamics, vaccine impact on population subsets or vulnerable populations. and factors that influence vaccine effectiveness.
Overall, NVSN surveillance and secondary data answer public health questions that are difficult to answer without prospective surveillance performed systematically over many years. These data inform decisions on public health measures and pediatric vaccine-related policies aimed at controlling AGE and ARI in children.
Future and newly initiated investigations include the true prevalence of SARS-CoV-2 in children, later sequelae from SARS-CoV-2, definition of EV-D68's relation to paralytic disease, the true burden of rhinovirus and adenoviruses (non-coronavirus causes of common colds) and definition of emergence of mutant strains of viruses that may no longer be prevented by existing vaccines. Additional studies include understanding the spread of AGE and ARI diseases, identifying high risk populations for severe infection or serious complications, and vigilance for newly emerging pathogens. The NVSN including our KC site provides timely and highly useful data (much of it also published in peer-reviewed journals) for public health interventions and preventive strategies against AGE and ARI diseases in children.
By: Children's Mercy