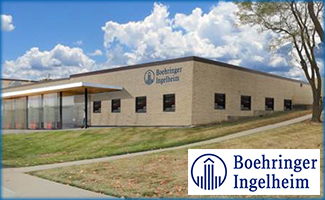 As the largest employer in the Kansas City Animal Health Corridor, Boehringer Ingelheim Vetmedica Inc. (BIVI) develops and manufactures biological vaccines and pharmaceutical products to benefit the health of animals including cats, dogs, horses, pigs and cows. The company is dedicated to providing the highest quality, most innovative and competitive products for the animals cared for by our customers.
Many of the BIVI products relied upon by both veterinarians and producers are manufactured at the company's 170,000 square-foot space in St. Joseph, Missouri.  The St. Joseph facility currently manufactures more than a billion doses of vaccines for distribution to more than 50 countries worldwide each year.
Along with its manufacturing site, St. Joseph is also home to a Research and Development Center, where innovative solutions to aid in the prevention and treatment of diseases affecting animals are explored and discovered. The BIVI operation in St. Joseph employs more than 800 area residents in a variety of technical and support roles.
"The St. Joseph site is an integral part of our U.S. operation and global animal health business," said Dr. Bernd Eichenmueller, BIVI's vice president of operations. "This year, we initiated a capital improvement project that includes a $22 million, 29,000-square-foot expansion of lab space here at our Gene Field Road location in St. Joseph. The expansion will provide additional lab space to support our scientists' continuing exploration of new technologies in animal health."
Overall, BIVI has made significant investments in its U.S. operations. Between 2010 and 2015, the company invested nearly $274 million in improvements to its sites including $159 million in Missouri. The commitment continues as BIVI plans to invest another $164 million in the state as part of an overall investment of $335 million before 2020.
"Animal health has a long history in the St. Joseph area, dating back to the establishment of the company that became BIVI, Anchor Serum in 1917," Eichenmueller added. "We look forward to continuing this legacy of innovation here in St. Joe for years to come."