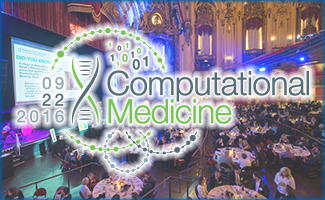 Big Data + Biomedicine = Hope
What do these International Classification of Diseases (ICD) code descriptions, the first dating back a 100 years, have in common?
– "Visitation from God" as cause of death
– A "malignant neoplasm of unspecified part of unspecified bronchus or lung"
– The patient was "sucked into jet engine, subsequent encounter"
All these examples demonstrate a lack of precision in medicine
Thanks to big-data, however, scientists today have made great strides in precision and computational medicine, that help better diagnose and treat patients.
Over 450 KCALSI Annual Dinner attendees enjoyed keynote speaker Dr. Atul Butte's compelling presentation, Translating a Trillion Points of Data into Therapies, Diagnostics, and New Insights into Disease. Atul Butte, MD, PhD is the inaugural Director of the Institute of Computational Health Sciences (ICHS) at the University of California, San Francisco, and a Professor of Pediatrics. He also serves as the Executive Director for Clinical Informatics across six University of California Medical Schools and Medical Centers.
Throughout his keynote, Dr. Butte shared several key insights, including:
Big data can:

predict disease before it strikes,
explain the rare diseases that defy experts,
find drugs for diseases lacking attention,
provide a platform for biomedical innovation,
…and in the end, big data in biomedicine is hope.

Pharma companies are spending between $4-12 billion and up to 17 years to develop a therapeutic drug. Dr. Butte suggested that scientists use big data to identify a better way to use drugs, and even finding a new use of an old drug. One example he noted where his team identified the psychiatric drug "Imipramine" shows significant activity against small cell lung cancer.  Mouse models treated with Imipramine demonstrated a complete "melting" of the cancer. He has launched a clinical trial with the total cost of the trial being $50,000.
Scientific data is sitting in international repositories online that can be used for researchers to explore new therapies and drugs. "Garage biotechs" or small start-up companies are emerging out of garages creating companies who are efficiently researching new therapies using free scientific data.
The next big open data opportunity is clinical trials data. This will involve releasing data from clinical trials to be available for new research.
Improve your ROI and competitiveness by moving your research from NIH funding to a commercial endpoint.
We should replace teaching cursive in primary school with "python programming" so that every student graduating will know how to write code.
We need to teach students how to ask the right questions of existing data because the experimental approaches to gather new data is outdated.
To learn more from Dr. Butte, enjoy his complete presentation online.
Science to Art
This year's third annual "Science to Art" silent auction featuring the intrinsic art found in biomedical research was again a huge success.   Scientists from across the region submitted images that were professionally curated, printed, and framed.  Please watch the video online that highlights this year's scientists and their passion for STEAM (STEM and Art).  KCALSI is matching this year's auction proceeds to make over $10,000 available for "STEAM" education, specifically BioGENEius, PREP-KC, Science Pioneers and free educational programs at the Kemper Museum.