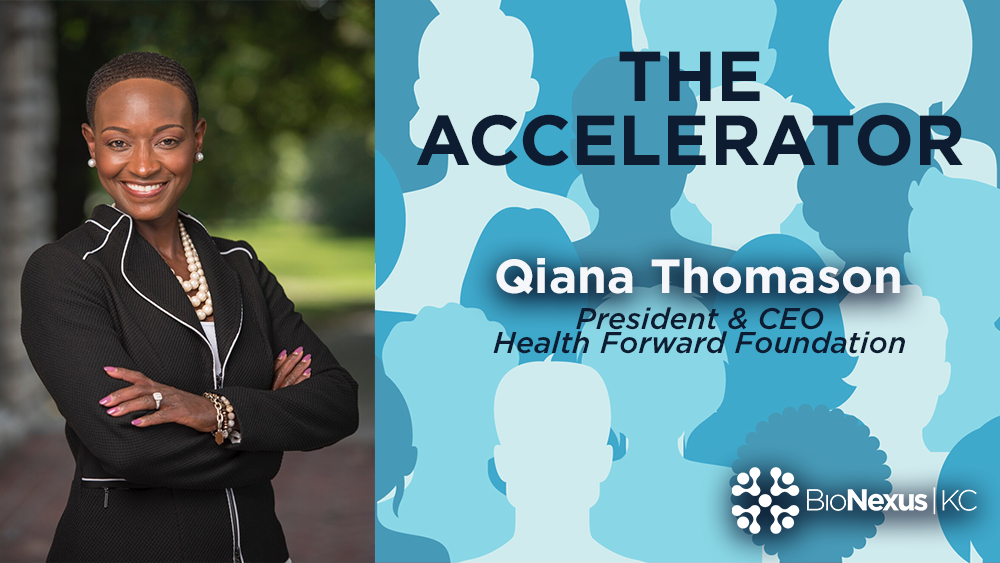 By: Qiana Thomason, President & CEO, Health Forward Foundation
At Health Forward, we envision a future where our community works collaboratively to ensure access to high-quality, culturally, and linguistically responsive health care lives in well-resourced, healthy environments and has full agency when making decisions about matters that affect our health.
However, as we work to achieve this vision, we must also upend the legacy of structural racism that continues to impact the health of our communities negatively and discriminately. Rural and urban neighborhoods across our region experience systemic disinvestment and barriers in access to mainstream assets that create health and wealth. More than one-quarter of Black and Latino Kansas Citians live in poverty, and unemployment rates are three times higher for Black residents than white residents. The consequences of these injustices are traumatic and devastating to the health of people in underfunded and under-resourced communities.
These are undeniable truths. But I believe Kansas City can lead the way forward to better health.
Health Forward Foundation and KC Health Collaborative, in partnership with the Institute for Healthcare Improvement (IHI) and other local stakeholders, are uniting the region's health ecosystem to understand and pursue bold actions of restorative justice in health and health care. This collaboration formed the Kansas City Health Equity Learning and Action Network (LAN).
The LAN is helping leaders recognize the systems and practices that stifle health and the power and duty each of us must act. This cohesive approach includes a full spectrum of viewpoints across clinicians, health and behavioral health systems, community organizations, government agencies, health payers, and researchers. Action steps LAN organizations are taking include:
Diversifying the boards of directors of participating organizations with people of color
Improving the collection of racial, ethnic, and language data to identify and eliminate health disparities in hospitals
Public health and county administration partnering to embed anti-racism in internal practices and policies
Pursuing culturally responsive health care and behavioral health services
Creating pathways for students of color to pursue and advance in health careers
Together, we're building the foundation for a culturally responsive health ecosystem that meets our whole community's needs.
The LAN's work is a call for healing and introspection. It is a call to pursue antiracism in governance, leadership, budgeting, staffing, quality improvement, policy, and numerous other areas. It calls for bold intention and courageous action that results in a fair and just opportunity for everyone to thrive and be healthy.
I invite you and your organization to recognize the power and duty to affect change in the health ecosystem.