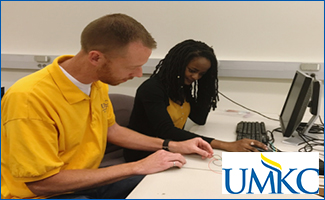 Project ADVANCER Places Underrepresented Minorities Into Research Programs 
Graduate schools and health sciences residency programs receive hundreds of applications for acceptance each year. Though many of the students applying for these programs are the best and brightest in their graduating classes, it has become difficult to differentiate students based solely upon their resumes and enrollment applications.
Noticing this increasing trend, an interdisciplinary group of UMKC faculty recently developed Project ADVANCER – Academic Development Via Applied aNd Cutting-Edge Research, a program that places undergraduate and professionals students from underrepresented minorities into cutting-edge research programs. The project, housed at UMKC's School of Medicine, is a partnership among the College of Arts and Sciences and Schools of Biological Sciences, Computing and Engineering and Nursing and Health Studies and was recently approved for $250,000 in initial funding as part of Provost Barbara A. Bichelmeyer's seven strategic funding initiatives.
Project ADVANCER gives students the opportunity to develop a track record of research and, by integrating training in scientific publishing and entrepreneurship into their academic curriculum, influences them to view research experience as the basis for diverse career opportunities. ADVANCER places students in nationally recognized, NIH-, NSF- and other extramurally funded research programs at UMKC and puts a strong emphasis on impactful, peer-reviewed scientific publications as the primary measure for success. Addressing the needs of a diverse society by combining students' individual expertise with a competitive record of research accomplishments has a significant potential to provide a direct impact on healthcare, science and technology development through such highly qualified graduates.
ADVANCER's long-term goal is to expand its scope beyond UMKC by serving as a model for other universities and healthcare entities. ADVANCER provides up to $10,000 in research funding for individual student/faculty mentor teams. This allows academic units, institutions, companies and philanthropic supporters to fund individual teams or develop larger programs depending on their needs and capabilities.
Project ADVANCER also provides philanthropic supporters and organizations the opportunity to fund highly visible and impactful projects that combine a number of aspects of interest to donors, such as scalability, programmatic focus, integration into larger funding initiatives, naming opportunities and person-focused funding.
To learn more about Project ADVANCER visit UMKC online or email ADVANCER@umkc.edu.