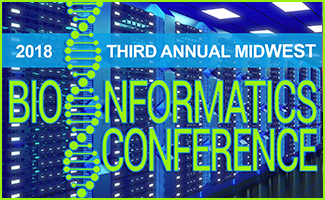 The Kansas City region boasts a wealth of bioinformatics capabilities and expertise that compares favorably with assets in other parts of the US known as bioinformatics centers. Our assets, however, are spread over a 250-mile geography between Columbia, MO and Manhattan, KS. Developing strategies to mitigate this issue was a primary driver in launching the annual Bioinformatics Conference in October 2015.
The Kansas City Area Life Sciences Institute in partnership with Children's Mercy and the University of Missouri are sponsoring the Third Annual Midwest Bioinformatics Conference on April 11 – 12 and will showcase practical approaches to collecting, organizing, and preparing data for a broad range of analyses applied in human, animal, and plant sciences. The Conference will convene bioinformatics-minded researchers from academia and industry to discover capabilities, share tactical approaches to problem-solving, explore synergies, and launch potential collaborations.  Additionally, there will be an opportunity for bioinformatics students to learn about employment opportunities within the region and employers to meet prospective candidates.
This year's conference will feature three keynote speakers:
Founder and CEO of Spensa Technologies
"Precision Ag — The Next Revolution in Agriculture to Feed 10 Billion People in 2050"
Director, Center for Translational Bioinformatics
Institute for Biomedical Informatics
University of Pennsylvania
"Machine Learning Strategies in the Genome and the Phenome – Toward a Better Understanding of Complex Traits"
Member, Donald Danforth Plant Science Center
Professor, Division of Plant Sciences
University of Missouri
"From Small RNAs to Big Data: a Transformation Driven by Bioinformatics"
The Conference will be hosted on the University of Missouri campus at the Bond Life Sciences Center. The event coincides with MU's Life Sciences Week and the 10th Anniversary of MU's Informatics Institute.
Registration is available online at kcbioinformatics.org