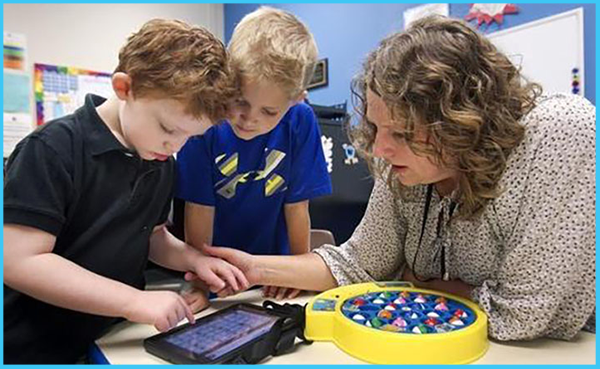 When the University of Kansas (KU) investigators studied autism spectrum disorder and communication interventions for non-speaking or minimally verbal young children, they teamed up with an appealing group of assistants — other preschoolers or peers without disabilities.
Kathy Bourque, PhD., at Juniper Gardens Children's Project, a part of the Life Span Institute, led the research. She said it could be difficult to convince others that peers that age can learn the skills to be supportive social partners.
"That's even a question we get from grant reviewers," Bourque said. "But if you ask a peer that has received training if they remember what to do with their buddy with autism, they say, 'I know! I know what I'm supposed to do: I'm going to stay, play and talk."
As Bourque's research team finishes the stay-play-talk intervention for the final group of children under their current grant, they are also scaling up that study under a new National Institutes of Health grant conducted in partnership with the Marcus Autism Center at Emory University in Atlanta. This new grant will begin recruiting participants from local preschools in August 2023 and continue for 4 years.
The team's primary aim in the initial grant, which has been underway since the fall of 2021, is to measure early social attention and an interest in watching and imitating peers. These skills may predict children's later success in communicating with their peers. Another goal is to determine if how researchers assess children's social behaviors (e.g., structured play, free play, and novel eye-tracking methods) influences children's social outcomes. Thus far, researchers have noted that children who understand more language at the start show a greater rise in social skills after the stay-play-talk peer-mediated intervention was complete.
"In our past work, we found that children who receive the peer-mediated intervention start using the iPad and words to talk more to their peers, and now we are learning more about why this happens for specific children," Bourque said.
For the new grant, researchers are completing a similar intervention that proved effective with children in earlier studies, but this time it is with a larger group of children, and they will individualize the intervention based on how the child initially responds.
"We are trying to individualize this type of social intervention with peers to be more specific to a child's needs and skills," Bourque said.
Children with autism with minimal verbal skills are most at risk for long-term social, communication, and academic challenges. "Stay, Play, Talk," takes typically developing preschoolers and teaches them to be active social partners—from staying with their buddy to taking turns with a toy to talking and understanding different ways a child with autism may communicate.
The activities are supported with an iPad programmed with concepts and object images to improve communication. Ultimately, the goal is to help minimally verbal children learn to communicate with the device, use more gestures, and, in some cases, start talking more to their peers.
"It depends on the child, but we've had just incredible success with the children with autism and their peers becoming more engaged and responsive to each other," Bourque said. "We've seen some remarkable social changes in many kids."
View more from the Nexus Spotlight