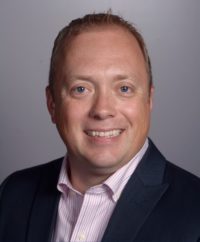 Kansas City, MO – BioNexus KC is pleased to announce the selection of Dennis Ridenour as its next President and CEO. A large number of candidates from across the nation competed for the executive role to lead the strategic development of the regional life sciences. Dennis currently serves as the CEO of BioKansas and was previously a researcher at the Stowers Institute for Medical Research. Dennis brings a deep appreciation of the nexus of human and animal health. He also brings with him an established regional network. Dennis is well-respected for his leadership of BioKansas, where he successfully turned around the non-profit, expanding its regional impact through networking, advocacy and the addition of workforce development programs.
"We are excited to welcome Dennis as our next President and CEO," said Bill Berkley, Chair of the BioNexus KC Board of Directors. "He brings demonstrated excellence in leading an organization and a wealth of knowledge as a researcher. Dennis knows our region well and he will continue to execute on our regional strategy, the Path to 2025."
BioNexus KC has several exciting goals in 2019, including developing the value-based healthcare ecosystem and life science proof of concept funds to help drive commercial success. "BioNexus KC is an amazing organization that has played a significant role in growing the life sciences here in Kansas City," said Dennis. "I'm honored that the BioNexus KC Board has selected me to steer the regional life science strategy, and I look forward to using my experience, creativity and insight to impact and benefit the entire region."
During his time as CEO of BioKansas, Dennis expanded membership by over 40%, establishing a larger regional footprint and developing numerous programs focused on convening the industry, academic, and associate organizations in our region. Under his leadership, BioKansas also identified the workforce needs of the industry and launched leadership and professional development programs to address identified skill gaps.
Prior to his roles at BioKansas and the Stowers Institute for Medical Research in Kansas City, Dennis held positions at Merck Research Labs and Harvard Medical School in Boston. Dennis earned his Bachelor of Science in Biological Sciences and a Master of Science in Veterinary and Biomedical Sciences from the University of Nebraska-Lincoln, and his MBA from the University of Kansas.
About BioNexus KC:
BioNexus KC believes we can do more to care for people and animals. We inspire thinkers from different disciplines to combine their efforts for a common purpose — healthcare innovation. From bioinformatics to cancer research and beyond, our goal is to stimulate collaboration and advance emerging technologies from concept to reality.
BioNexus KC has led the strategic development of the regional life sciences since 2000. Our 2018 census illustrates our regional strength and growth in the life science sector including an impressive 17% increase in life science companies, and 22% increase in employment over the past three years.