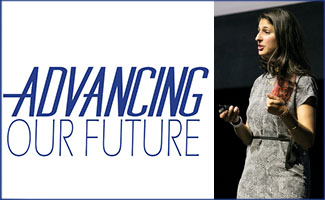 Close to 500 community leaders, scientific leaders, and college and high school students attended the 2017 Kansas City Area Life Sciences Institute (KCALSI) Annual Dinner. Nina Tandon, founder and CEO of EpiBone, provided the captivating keynote presentation emphasizing several ways the audience could help in advancing our future. Her presentation encouraged the audience to think of cells as living building blocks and provided examples of innovative approaches to tissue engineering. "It's very exciting because what we're really doing is connecting with what the body does naturally," she said.
Dr. Tandon urged the audience not to emulate the east or west coasts, but leverage the unique strengths of this region, e.g., the Animal Health Corridor, concentration of contract research organizations (CROs), etc. She further encouraged the region to foster a rich life sciences ecosystem, and to identify pathways bridging the venture capital funding gap. She closed her presentation by reminding us that scientific ethics are crucial to advancing our future. "Even more important than what can we do with these technologies is what should we do?"  said Tandon.
Dr. Wayne Carter, KCALSI President and CEO, provided a perspective on the nexus of human and animal medicine by highlighting regional companies that are advancing our future with new therapies for people and dogs.  Projects included 1Data, an interoperable database of human and animal data; a pilot program for outcomes research in percutaneous coronary intervention; a regional comparative oncology program; new proof of concept funding programs and many more.
Dr. Carter concluded with a call-to-action to advance our future, encouraging the audience to
(1) continue to collaborate
(2) mentor high school and early college students
(3) invest in local research and regional funding programs
Click here to view Dr. Wayne Carter's presentation
Click here to view Dr. Nina Tandon's presenatations: clip 1, clip 2, clip 3
Science to Art
Science to Art provides an opportunity for scientists from KCALSI stakeholder institutions to showcase both the visual imagery in their research and their passion for the arts. Through these images, art pieces demonstrated the beauty behind the repairing of a DNA strand, the solar eclipse, artificial intelligence, cartilage in an alligator's jaw, and several other scientific discoveries. Each image described a quest for scientific understanding and potential cures from regional scientists.
This was the fourth consecutive year for KCALSI's Science to Art silent auction held during our Annual Dinner. Bidding was available to the public through the KCALSI website during the six-week exhibition of the artwork at the Kemper at the Crossroads. The Kemper Museum of Contemporary Art was an instrumental partner for this exhibit. This year's auction proceeds of over $10,000 will be made available for STEAM education, specifically BioGENEius, Prep-KC, Science City and the Greater Kansas City Science & Engineering Fair, and free educational programs at the Kemper Museum.
Click here to watch a brief video highlighting this year's scientists and their passion for STEAM.