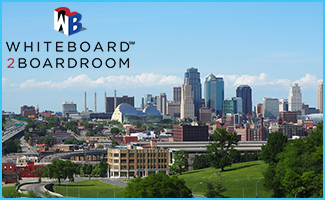 Several Innovations are Being Commercialized with the Help of Whiteboard2Boardroom.
A classroom program to help children with autism learn social skills. Biometric technology that delivers a password-free mobile device experience. Autonomous unmanned vehicles. Smart sensors on city vehicles to collect information about roads.
These innovations and many more are being commercialized with the help and connections of Whiteboard2Boardroom (W2B). Across a range of industries, W2B offers a very early look at innovations on their way to commercialization and matches them with entrepreneurs who can take them to market.
W2B is a bi-state collaboration among 23 research institutions, hospitals and corporations across the states of Kansas and Missouri. With an average of six startups a year, W2B has been successful in consolidating research technologies, making them visible to the public, attracting leadership talent and strategic partners, and identifying critical resources, such as capital and prototyping facilities. The program was initially funded by a National Science Foundation Partnerships for Innovation grant awarded to the UMKC Innovation Center in 2009.
iSocial is a recent success story. It started with a classroom curriculum designed by University of Missouri researchers to help children with Autism spectrum disorder cultivate better social skills. iSocial was featured on one of W2B's monthly online webinars. The concept intrigued Bob Etzel with Nascent Stage Development LLC who then acquired the rights to iSocial through MU's Office of Technology Management and Industry Relations. Nascent has developed the classroom model into an expansive, online virtual world, and the lessons went live to millions of families and educators globally this spring.
"We are able to give entrepreneurs like Bob Etzel a very early look at the innovations coming out of area universities, research institutions and hospitals," said Jim Baxendale, W2B director.
"When Brett Maland from the University of Missouri introduced me to iSocial, I knew that I was standing at the leading edge of ASD research," Etzel said.
In addition to webinars, W2B hosts Technology Snapshot events and operates a subscription-based tech alert system to attract innovators to technology opportunities. If you are interested in becoming part of W2B through any of the programs, contact Jim Baxendale at baxendalej@umkc.edu.