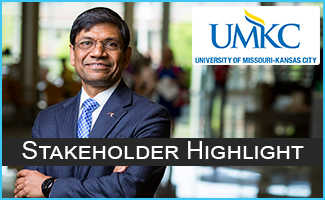 The Chancellor C. Mauli Agrawal era at UMKC began June 20. Agrawal comes to UMKC after 15 years at the University of Texas-San Antonio, where he progressed from professor to dean to vice president and interim provost. He is a native of India, a U.S. citizen, an oil painting hobbyist, an inventor who holds 29 patents and an entrepreneur whose bioengineering research group has been responsible for starting three companies in San Antonio.
He is enthusiastic about his new role at UMKC.
"With strengths in medicine, dentistry, pharmacy, business, engineering, arts and theater, the university is an exceptional anchor for economic development in the Kansas City region," Agrawal said. "I'm looking forward to working with UMKC's faculty and staff as well as Kansas City's civic leaders who are passionate about higher education and are constantly working to make Kansas City a great place to live, learn and work."

The new chancellor will be part of leading the UMKC Health Sciences District.
Formed just last year to spur research and community outreach, the district includes a dozen partners: UMKC and its schools of Dentistry, Medicine, Nursing and Health Studies and Pharmacy; Truman Medical Centers; Children's Mercy; Kansas City, Missouri Health Department; Missouri Department of Mental Health Center for Behavioral Medicine; Jackson County Medical Examiner; Diastole Scholars' Center and the Ronald McDonald House Charities of Kansas City.
The UMKC Health Sciences District is unlike any other in the nation. It is one of 18 areas in the country that have public schools of medicine, pharmacy, dentistry and nursing in one location along with a children's hospital as well as an acute-care hospital. By including a health department, the medical examiner and a mental-health center that bring together agencies of the city, county and state, the UMKC Health Sciences District is one of a kind.
Drawing on these institutions' strengths, the district can enhance collaboration on research and grant requests, and those efforts are underway. The research committee is assessing projects that make a significant impact on the health of those in the Kansas City area and beyond.
LIFE SCIENCES BULLETIN
Volume 2, 2018
Volume 1, 2018
Volume 3, 2017
Volume 2, 2017
Volume 1, 2017
Volume 3, 2016
Volume 2, 2016
Volume 1, 2016
Volume 2, 2015
Volume 1, 2015
Volume 3, 2014
Volume 2, 2014
Volume 1, 2014
Kansas City Area Life Sciences Institute