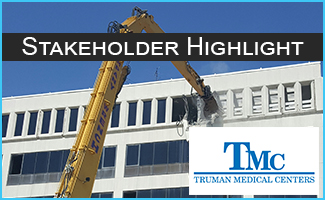 It's not every day Truman Medical Centers President and CEO Charlie Shields gets to take a seat at the controls of some very heavy equipment. But Charlie couldn't have been happier to take the first demolition hit to a building that sits on the southeast corner of 22nd and Charlotte in order to make room for a new structure. "This is so exciting," Shields said, "this new building is a great addition for TMC and for University Health."
On that lot, at 22nd and Charlotte, will sit University Health II. The current University Health sits across 22nd Street. University Health (UH) is downtown Kansas City's only outpatient surgical center. It's also an outpatient clinic with 15 specialty centers staffed by the physicians of TMC.
University Health II will be home to Women's Care and Primary Care. The design is patient-centric and will provide easy access for them. "Patients will be able to check in easily using iPads," said TMC Sr. Vice President and Chief Strategy and Information Officer. "We are going to have technology throughout UH II." Eventually all of the buildings on the HSD campus will be connected by skywalk.
Moving Women's Care from the sixth floor of Truman Medical Centers to UH II leaves room for another project. Starting next June, Truman will be expanding our Level III Neonatal Intensive Care Unit. TMC's new NICU, which currently includes 19 beds, will become 28 ICU rooms that will allow families to room in with their new babies.