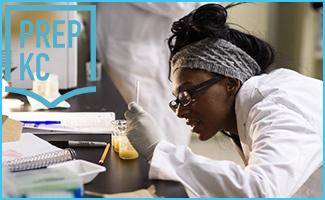 The students selected for these 6-week paid internships are rising seniors and recent graduates from Kansas City, KS Public Schools who have participated in bioscience studies during their high school years. They worked in their assigned laboratories from June 4-July 14.
These laboratory internships are powerful opportunities for students to see themselves as scientists by performing experiments, connecting the scientific theories to real-world problems, and working in a team-based collaborative environment. PREP-KC has partnered with the Department of Pharmacology, Toxicology, and Therapeutics since summer 2014 to place students in laboratory internships, with a goal of helping to prepare urban students for entry-level jobs in KC's human health and animal health industries.
PREP-KC has worked closely with BioNexus KC over the past 10 years to connect students from 6 urban school districts to Life Sciences career pathways. Additionally, PREP-KC has recently published a Playbook to assist districts in creating STEM career pipelines for young women.
Also, to meet the demand for many more authentic connections between workforce professionals and the classroom, PREP-KC has launched The Connector, a virtual tool for scaling connections between teachers (K-12) and their students with professionals in the KC region to help students explore a wide variety of employment possibilities and build their future aspirations.