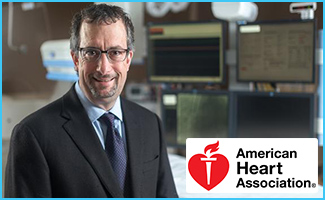 Dr. John Spertus has been named a recipient of the American Heart Association (AHA) 2018 Distinguished Scientist Award. The AHA Distinguished Scientists are a prominent group of scientists and clinicians whose work has advanced our understanding, management, and treatment of cardiovascular disease and/or stroke.
Dr. Spertus is a cardiologist and the Lauer/Missouri Endowed Chair and Professor of Medicine at the University of Missouri-Kansas City, where he serves as Clinical Director of Outcomes Research at Saint Luke's Mid America Heart Institute. He founded the Cardiovascular Outcomes Research Consortium and CV Outcomes, a non-profit corporation dedicated to advancing healthcare quality and outcomes research in cardiovascular disease. He is also a founder of Health Outcomes Sciences, an information technology company that implements precision medicine in clinical care.
"I am humbled by the honor to be recognized by the AHA for our work to improve the patient-centeredness of care. While traditionally the basic sciences are prioritized, to see the work of our community to improve care and outcomes is a terrific validation of the collective efforts of my entire team and colleagues," said Dr. Spertus.
Dr. Spertus developed the Seattle Angina Questionnaire (SAQ), and the Kansas City Cardiomyopathy Questionnaire (KCCQ), which have both been translated into over 95 languages each and have become the gold standards for measuring patients' symptoms, function and quality of life in coronary artery disease and heart failure. He is currently leading a regional effort, in conjunction with BioNexus KC and the Frontiers CTSA, to have local hospitals collaborate to improve the value of healthcare in Kansas City.
The AHA Distinguished Scientists award was created in 2003 to honor AHA/ASA members for significant, original and sustained scientific contributions that have advanced the association's mission "Building healthier lives, free of cardiovascular diseases and stroke." As a Distinguished Scientist, Dr. John Spertus will be honored during the Opening Session at AHA Scientific Sessions on Nov. 10-12, 2018 in Chicago, IL.
To learn more about Dr. Spertus' work, click here.