BEST Conference Center: University of Kansas Edwards Campus
12604 Quivira Road
Overland Park, KS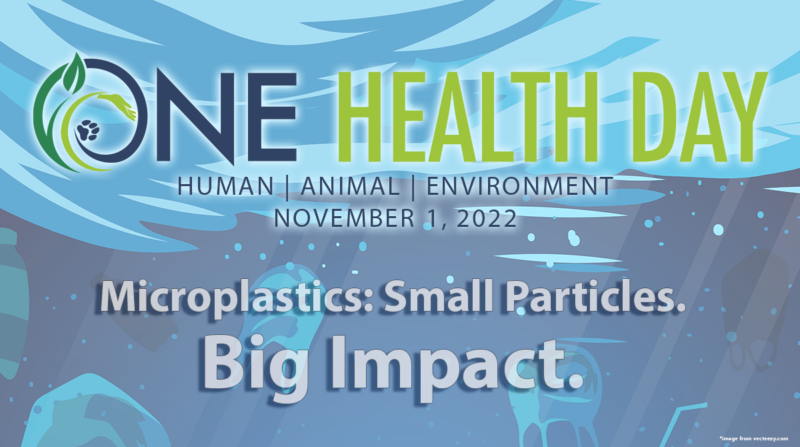 Microplastics are a major emerging issue for human, environmental, and animal health.  Created by the breakdown of plastic in the environment, laundering of synthetic fabrics, and the inclusion of microbeads in cosmetics. These fine particles of plastic (smaller than 1 millimeter) are found in streams, lakes, oceans, soil, and even airborne dust.  Once in the environment, microplastics accumulate and persist for long periods of time.  Microplastics can become embedded in both human and animal tissue through ingestion or respiration.  Microplastics can absorb heavy metals and pesticides found in the environment, which may then be absorbed indirectly by an animal, potentially increasing exposure to chemicals and leading to poisonous effects. Additives added to plastics during manufacturing may leach out upon ingestion, potentially causing serious harm to the organism. Endocrine disruption by plastic additives may affect the reproductive health of humans and animals alike.  Substantial research remains to be performed to determine the extent, severity, and toxic effects of microplastics on humans, animals, and the environment.
One Health Day will have experts in microplastics from the University of Kansas, Kansas State University, University of Missouri, and University of Missouri Kansas City share research and what we know about the impact of microplastics on humans, animals, and the environment.
AGENDA
3:00 – 3:05        Registration and Student Posters Viewing
3:00 – 3:05         Welcome
Stuart Day, Dean, KU Edwards
3:05 – 3:10         History of One Health Day
Mark Jakubauskas, KU Edwards
3:10 – 3:30         Keynote Speaker | Overview of Microplastics and the One Health Impact
Belinda Sturm, University of Kansas
3:30 – 3:50         Microplastics and the Impact on Agriculture and Our Food
Mary Beth Kirkham, Kansas State University
3:50 – 4:10          Exposure to Chemicals in Plasticizers and the Impact on Human Health
Cheryl Rosenfeld, University of Missouri
4:10 – 4:40         Panel Discussion | Questions and Answers with the Speakers
Megan Hart, University of Missouri – Kansas City | Moderator
Mary Beth Kirkham, Kansas State University
Cheryl Rosenfeld, University of Missouri
Belinda Sturm, University of Missouri
4:40 – 5:00         Student Poster Awards and Closing Comments 
Ben Wolfe, K-State Olathe, and Daniel Kennedy, BioNexus KC
5:00 – 6:00         Networking Reception and Student Poster Viewing