Virtual via Zoom
AL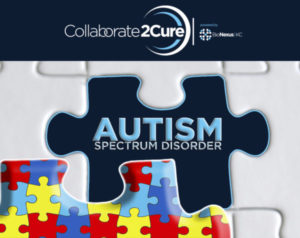 PLEASE NOTE: Collaborate2Cure is a multi-year series of events designed to stimulate collaboration and solve specific scientific challenges in the Kansas City region. Each year, Collaborate2Cure addresses a new health challenge; past challenges have included cancer immunotherapy, mitochondrial diseases, and value-based healthcare. BioNexusKC appreciates the term "cure" takes on a contextual meaning within the autism community – its use here is only as part of the name of this long-standing program term series and not specifically applied to the autism-focused events in this series. We respect all individuals in the autism community, and encourage you to share your voice in this year's events focused on the science around autism.
Autism Spectrum Disorder (ASD) is a complex condition with a wide range of symptoms and severity. This month's Collaborate2Cure session focuses on outcomes in Autism.
Join us at the session on December 2nd for a multi-disciplinary agenda about integrated approaches for predicting outcomes in ASD, as well as research advances that could facilitate identification of subtypes and more personalized interventions.
AGENDA
Welcome and Introductions
Presentations
Speakers

Brian Boyd, PhD, Associate Professor, Social and Behavioral Sciences – Applied Behavioral Science, University of Kansas, Director, Juniper Gardens Children's Project, KU Life Span Institute Center

Jacob Michaelson, PhD, Roy J Carver Associate Professor of Psychiatry and Neuroscience
Division Director, Computational and Molecular Psychiatry, Associate Professor of Communication Sciences and Disorders, Associate Professor of Biomedical Engineering, University of Iowa Health Care

Olivia Veatch, PhD, Assistant Professor, Department of Psychiatry and Behavioral Sciences, University of Kansas Medical Center
Audience Guided Q&A