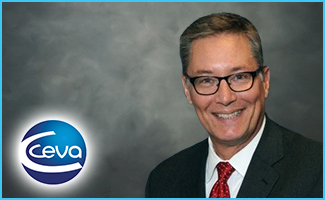 Dr. Tyler Martin joined Ceva Animal Health as Chief Operating Officer and the leader of all U.S. Biology operations.
A physician by training, Dr. Tyler Martin brings extensive experience in biotechnology and is responsible for all operations related to poultry and swine vaccine production.
A Nebraska native, Martin received his MD degree from The University of Nebraska College of Medicine. He completed a Postdoctoral Fellowship in infectious diseases and molecular biology at Washington University in St. Louis.
"I left medical practice for industry because I thought that was where I could do the most good and have the most impact," said Martin. "While I have spent much of my career in biologic development and production, Ceva will be my first experience in animal health. I look forward to working in this industry because of the growing focus on stopping the spread of zoonotic disease as well as ensuring healthy and adequate food animal populations."
Martin spent several years working with biotech companies in the San Francisco region. He has led development activities of more than 100 investigational new drug applications and developed four drugs which receive FDA or EMA approval.
Five years ago, he and his wife moved back to Nebraska where he served as Chairman, CEO and President of Adjuvance Technologies, a company focused on creating breakthroughs in vaccine adjuvant design and manufacturing. Prior to joining Adjuvance, Dr. Martin served as Chief Medical Officer, President and Director of Dynavax Technologies where he oversaw clinical development of HEPLISAV, a hepatitis B vaccine which included the novel adjuvant 1018. He also founded Great Plains Biotechnology, providing consulting, investor research and incubator services for companies working on the frontier of biology.
From its North American Headquarters in Lenexa, Ceva ships vaccines to over 70 countries. Ceva employees more than 400 locally. Globally Ceva employs over 5,200 people with physical operations in 44 countries. Earlier this year, Ceva introduced world's first dual-vector vaccine to for poultry.
Martin joins the local management team of Craig Wallace, CEO and North America and Pacific Zone Director and Steve Payan, COO of the Pharmaceutical Unit.