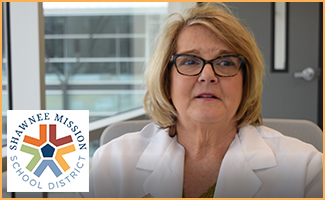 Classic high school science classes echo with the staccato of text books turning to page 75; test is on Friday, a C-grade is a pass; and for an hour every week you put your hands on the equipment to "do" the work and not just read about it. Brenda Bott is turning this traditional science class on its ear. Her class is "hands-on" all the time, and the grade is right and wrong. The process is often the lesson and the results are discovered rather than set. She is building researchers, risk-takers, and scientists at Shawnee Mission School District (SMSD), and her program has achieved significant momentum.
Started as a simple idea 11 years ago, the course has grown into a valued and supported program cultivating the next wave of qualified students. "I'm training students to go into industry and research and work for you," Bott said, "I feel like I must guarantee that the students know what they are doing."
The Biotechnology Signature Program started at Shawnee Mission West High School and relocated in August 2017 to the Center for Academic Achievement in Overland Park. The program is designed to develop lab skills and research techniques. Bott begins with the basics, skills that every biotech scientist needs, measuring volumes and masses, solution prep, aseptic techniques, and basic microbiology. Then she moves into DNA extraction and sequencing, using bioinformatics to analyze the DNA nucleotide sequence. Students begin to apply genomic information to protein structures, so that the students are learning assays, ELISA, and western blots. Students reach a point when they are expected to develop their own novel research based on something they read, saw in class or learned from a guest speaker. "They have questions about what is going on," Bott said, "So they design a project to find quantitative values to substantiate their results."
The traditional science class grades by learning from textbooks and lectures, followed by a written test. Bott grades based on percentage error and accuracy, students get a pass or a fail grade. Students are required to get 90% or better on everything they do, if they fail, they are retrained, and they do it over again until they pass.
The program is not without challenges. Bott encourages her students to run the lab. This sometimes raises subject areas outside of her expertise and knowledge base, and this is when the research community and the Kansas City Area Life Sciences Institute (KCALSI) serve as important resources.
"I am not a traditional teacher, and this is not a traditional classroom. I am the facilitator, the project manager," Bott says, "I love the challenge of something new." When her students want to take the lab in a new direction, she goes to KCALSI and is connected to an expert in the field to work with the students. Bott loves this because she gets to listen to, and learn from, these new lessons all the time. "Because of KCALSI I have a safety net of people," Bott says and that makes her fearless with this program.
In five to ten years, she would like to see prospective students lined up out of the building. She wants to add more classes, labs and faculty. "I love it when students love science and find their passion," Bott said, "to have a line of students waiting to get in because this is their passion, that would be a dream come true."