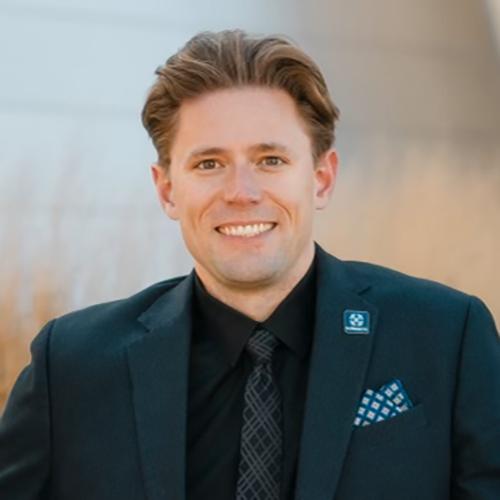 Kansas City, MO – BioNexus KC, the coordinating body for the KC region's life sciences research initiatives, is pleased to announce Daniel Kennedy as its next Vice President.
Daniel, a Kansas City native, is well-versed in the strengths and opportunities of the research community in our region. Prior to joining BioNexus KC, Daniel worked as the Research and Development Director at Novation iQ, a private research facility in Lenexa, Kansas, where he established a proven track record of translating research concepts into packaged, profitable assets across a multitude of fields.
"After an extensive national search, we are delighted to have Daniel join our team. His background and expertise in both research and product development positions BioNexus KC for long-term success in strengthening the research infrastructure in the region and helping researchers translate their work into treatments that benefit all Kansas Citians," said Dennis Ridenour, President and CEO of BioNexus KC. "I'm excited about the knowledge and creativity he will bring to our organization."
Daniel obtained his master's degree in Neuroscience and Biomedical Engineering from Northwestern University. Before that, he earned his bachelor's degree in Biomedical Engineering with a minor in communications from Purdue University. His experience ranges from robotics and neuropharmacology to curriculum development and FDA approval processes. Daniel's multifaceted background provides a unique viewpoint that will help BioNexus KC advance life sciences in the KC region.
As Vice President, Daniel will enhance collaboration and research funding opportunities, as well as fortify the commercialization pipeline for life sciences researchers and entrepreneurs. He will also work with educational institutions and industry to bolster the region's workforce pipeline and assist in policy and advocacy-related activities at local, state and federal levels.
Daniel most looks forward to serving his community on a larger scale by working with the expansive life sciences ecosystems and numerous research organizations throughout the KC region.
Learn More about Daniel Kennedy
About BioNexus KC:
BioNexus KC believes we can do more to care for people and animals. We inspire thinkers from different disciplines to combine their efforts for a common purpose — healthcare innovation. From bioinformatics to cancer research and beyond, our goal is to stimulate collaboration and advance emerging technologies from concept to reality. The KC region is a global leader at the nexus of human and animal health benefiting all our citizens and the economy.
BioNexus KC creates opportunities at the nexus of:
Human and Animal Health
Academia and Industry
Kansas and Missouri
Media Inquiries:
Shaylee Yount | BioNexus KC – Marketing & Events Manager
syount@bionexuskc.org