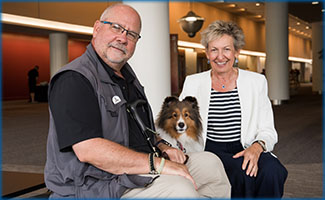 KCALSI One Health Innovations Symposium Highlighted the Many Opportunities in Comparative and Translational Research
The 2016 One Health Innovations Symposium held August 29th and 30th was yet another stellar effort to speak across species and medical research disciplines led by the Kansas City Area Life Sciences Institute, the University of Missouri, and Kansas State University.
The symposium's goal was to highlight the many opportunities in comparative and translational research. The meeting was designed to stretch physicians, veterinarians, and scientists to think strategically about diseases occurring in both humans and companion animals by comparing cellular, genetic and disease processes across species. Attendee questions illustrated the significant interest in learning more about the diseases of companion animals and the sophistication level of comparative medicine and surgery.
Major sponsors supporting the program included Bayer, Boehringer Ingelheim, Ceva, Mizzou Advantage and Zoetis.
The two-day event showcased the impressive research talent available in the Animal Health Corridor, including:
• Jeffry N. Bryan, DVM, MS, PhD, DACVIM—Director of both the Comparative Oncology and Epigenetics Laboratory and the Scott Endowed Program in Veterinary Oncology at the University of Missouri.
• The "Dynamic Duo" of James P. Stannard, MD and James L. Cook, DVM, PhD, OTSC from the Mizzou BioJoint Center, University of Missouri.
• Joan R. Coats, DVM, MS, DACVIM Professor of Neurology and Neurosurgery at the College of Veterinary Medicine of Missouri, authority on Canine Muscular Dystrophy.
• Leslie A. Lyons, PhD, College of Veterinary Medicine Missouri and James P. Calvet, PhD, University of Kansas Medical Center, authorities in Polycystic Kidney Disease in cats and humans respectively.
• Mark Weiss, PhD, Professor of Stem Cell Biology and Neuroscience at the Johnson Cancer Center, Kansas State University College of Veterinary Medicine.
• Joseph McGuirk, DO, Professor of Hematology-Oncology, Director of the Division of on Hematologic Malignancies and Cellular Therapeutics and the Bone Marrow Transplant Program at the University of Kansas Cancer Center.
• Francis Karanu, PhD and Edward Robb, DVM, MS, DACVN represented Likarda, LLC and presented a comparative look at diabetes.
Other speakers included Cheryl Stroud, the Executive Director of the One Health Commission, Amy LeBlanc, the Director of the Comparative Oncology Program at the National Cancer Institute and several other national speakers.
The focus was on naturally occurring diseases in companion animals that create research opportunities for identifying medical research breakthroughs benefiting both pets and people. Speaker panels were organized around a disease topic and presented from the human, animal and regulatory perspective. Day one was an overview of One Health and health advances in comparative and translational research followed by a comparative look at cancer, osteoarthritis, genetics and big data in medical research. Day two continued with a comparative look at muscular dystrophy, polycystic kidney disease, stem cell research and diabetes. Many regional high school students attended and engaged speakers boldly about the inextricable interdependence between human, animal and environmental health
Eleventh Annual KC Animal Health Corridor Homecoming
At the 11th annual KC Animal Health Corridor (KCAHC) Homecoming dinner on Aug. 29, nearly 1,100 animal health leaders gathered in the Kansas City Convention Center Grand Ballroom to celebrate the power of the human animal bond. Keynote speaker and founder of Community Veterinary Outreach, Dr. Michelle Lem, highlighted the role that animals play in the lives of the most vulnerable. Her organization has a unique approach to providing medical care to homeless and marginally housed by providing care to both the individual and their pet. She shared examples of how we can all find humanity through animals emphasizing to everyone in the audience that what we do is more than animal health.
Dr. Albrecht Kissel, president and CEO of Boehringer Ingelheim Vetmedica, Inc. (BIVI) and chair of the KCAHC, unveiled the new Spirit of Service program and honored Dr. William P. Duncan, previous president and CEO of KCALSI, with the 2016 KCAHC Iron Paw Award. Kimberly Young, president of the KCAHC, noted the collective efforts of the organization over the past year welcoming the companies that expanded or relocated to the region.
Eighth Annual KC Animal Health Investment Forum
Nearly 450 attendees heard from 17 emerging companies from Canada, Ireland, Israel and 10 U.S. states at the 2016 KC Animal Health Investment Forum. This Forum offers one of the only opportunities in the world for early- to mid-stage companies in the animal health sector to present their vision and business plan to potential investors. Companies presenting at the Forum have raised more than $170 million in funding. Mazen Animal Health was chosen as the 2016 Innovation Award winner.